Wait, there's a Disclaimer!
---
---
None of this is Canon, but as far as Azriel is concerned, it's canon to them. It shouldn't be considered canon in the "Steven Universe" universe, and nobody has to follow the canon rules of TopazriVerse.
~*~
Cora Sun-Drop Diamond is one of the highest-ranking gems in the Homeworld caste-system. She is one of the recurring protagonists in the upcoming series, Otsolyantes.
Appearance
TBA
Personality
Cora Sun-Drop is initially cold and calculative when you first meet her. She is intelligent and excitable when you get to know her. While not exactly respectful to gems below her, she has a soft spot for her own court. She is more friendly and outgoing than the others. Cora Sun-Drop, however, despises organic life, just like the other diamonds.
Abilities
TBA
Relationships
TBA
Trivia
TBA
Gemology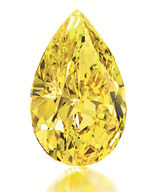 Diamond is the official modern birthstone for April, and it is also used as an official sixty-year anniversary gemstone. Yellow diamonds are considered one of the true birthstones for Virgo.
Diamonds are the stone of truth and victory.

It is associated with lightning and fearlessness, and for its properties of protection.
The diamond, in its rarity and beauty, is a symbol of purity and innocence, of love and fidelity, and embraces strength of character, ethics, and faithfulness to oneself and others.

Diamond is the transparent, gemstone-quality crystalline form of carbon and it is indeed one of the hardest known natural substances on Earth.

Diamonds' hardness is the result of extremely strong chemical bonds between the carbon atoms.
There is no other gemstone in the same family as diamond, although there are a variety of very similar gemstones.
Diamond is pure carbon and is chemically the same as graphite.

Although traditional colorless or "white diamonds" are by far the most popular colored diamonds, yellow and brown diamonds are actually the most commonly occurring diamonds.

Yellow diamonds are used for industrial purposes, such as concrete saws, because of how common they are.
Other diamond colors include pink, red, orange, blue, green, gray, and black.
Specific colors will trade under specific names.

Brown and yellow diamonds are often referred to as "champagne" or "cognac" diamonds.
Pure, intense yellow diamonds are called "Canary Diamonds"

Some famous yellow diamonds include Golden Jubilee Diamond, Florentine Diamond, and Cora Sun-Drop Diamond.
Diamond deposits are found worldwide. The most notable being Africa, Australia, and India.

Approximately half of the world's diamonds come from Central and Southern Africa.
Canada has recently become a main commercial source for fine white diamonds.