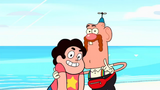 "Don't worry bro, none of this is canon. But this is!"
This article contains information that is considered canon in the "Steven Universe" universe.
"

♫ I will fight for the world I was made in! The Earth is everything I've ever known! ♫

"
—"We are the Crystal Gems"
Amethyst is a main protagonist in Steven Universe.
As one of the Gems manufactured on Earth as a part of the Gem Homeworld's Kindergarten project and is the last known, Amethyst is one of the last surviving Gems on Earth to join the Crystal Gems. After the rebellion, Amethyst helped her friends protect the Earth over the next four millennia, and often aids in the shenanigans of Steven Universe, Rose Quartz's son.
Appearance
Amethyst is shorter than most of the characters, rivaling Steven's height, (seeing that normal Quartz are large soldiers, she's half the height of other Quartz Gems, such as Jasper and Rose due to being in the ground for an extra 500 years) with an almost stout build. Amethyst's skin is a bright lilac, and her hair is a pale lavender color. She has plump lips, a small, upturned nose and a large bang which obscures her left eye. If you look closely, she has dark indigo eyes. Her shoes are white ankle boots. Her gem is located on her chest.
Debut
From "Gem Glow" to "Reformed", Amethyst wore a mauve, oversized, off-shoulder tank top (as confirmed in Guide to the Crystal Gems) with a black bra underneath. She wore black leggings with star-shaped cutouts on the knees. There was also a tear above the left star.
Previous
From "Reformed" to "Crack the Whip", the colors of Amethyst's tank top and leggings are reversed. Instead of cut-outs on her leggings, she now has two black stars. On the lower part of her tank top, there are now two small slits on either side. She fixes her shoulder strap, keeping it on her shoulder rather than off (a feature Pearl was happy to see changed).
Third
From "Crack the Whip" to "Together Alone", Amethyst's color palette remains the same but has been swapped once more: her tank top became off-white with a jagged hem, got black leggings (similar to her debut) with dark mauve stars on them. Her ankle boots are the same dark mauve hue.
Current
As of "Change Your Mind", Amethyst now wears a black tank top that it is torn open at the chest to reveal her gemstone, dark mauve shorts with black stars on each legs, and her boots become white again.
Personality
Abilities
Relationships
Trivia
Gemology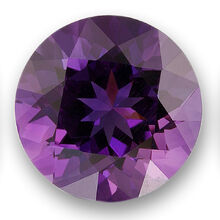 Gemstone Information
Amethyst is the birthstone for those who are born in February or for the zodiacal sign of Pisces and Aquarius.[13]
Amethyst is the national gemstone of Uruguay.

The amethyst is assigned to the planet Neptune.

Amethyst belongs to the macrocrystalline branch of quartz and owes its violet/purple color to iron and aluminum impurities.

Like other varieties of macrocrystalline quartz, amethyst has transparent to translucent clarity and a vitreous luster.

Amethyst stones are often associated with the Greek/Roman god Dionysus/Bacchus, god of wine, intoxication, madness, and agriculture.

This could be the reason behind her impulsive and self-indulgent nature.
Since amethyst was considered an antidote against drunkenness, many wine goblets were carved from amethyst stone. Still to this day, violet-purple amethyst is a symbol of sobriety.
Some famous amethysts include the Tiffany Amethyst, the Delhi "Sapphire", and the Morris Amethyst Brooch.

Amethyst owes its color to iron and aluminum impurities. The colors range from purple and violet to pale red-violet.

Without such coloring agents, amethyst would simply be transparent, ordinary colorless quartz.
So-called green amethyst is produced by heat treatment, but since amethyst is defined by its purple color, green amethyst is not considered to be a true amethyst.
References
Community content is available under
CC-BY-SA
unless otherwise noted.